One of the best ways to connect with customers and show off your expertise is by getting engaged and giving back to your community. This is your opportunity to show off your amazing team at an exhibit booth, demonstrate your latest technology, and promote your brand to attendees.
As your marketing partner, the ISAO Standards Organization takes our sponsorship agreement seriously. The Second Annual IISC is a vital step in building connections with information sharing groups, which is why we want to deliver the best sponsorship benefits available to you as our valued sponsor.
If you have any questions about sponsorship, please contact Brande Mora at brande.mora@utsa.edu.
Download the IISC 2018 Sponsor Packet
Connect with your Customers
The inaugural conference welcomed nearly 200 attendees from various fields in academia, government, industries and other areas of interest.
From the Academia sector, we were excited to have Johns Hopkins University Applied Physics Laboratory and Carnegie Melon University among the colleges and universities in attendance.
Government officials from the Department of Homeland Security, Federal Bureau of Investigations and Environmental Protection Agency were present, and Industry representatives such as Price Waterhouse Coopers, the U.S. Chamber of Commerce, and Arete were able to connect and engage on information sharing topics.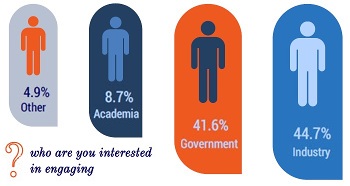 Demonstrate Your Product
We have exciting new opportunities this year to help you engage new and existing customers. We will be offering 15 and 30-minute technology demos during lunch. The Premier and Platinum sponsors will have this opportunity to showcase their product to our audience and then interact with them during conference breaks.
Display your Brand
From digital signage and video opportunities in the lobby bar and near elevators to digital check-in keys and traditional conference items, your brand will be front and center.
Sponsorship Levels
IISC 2018 will offer six different levels of sponsorship, each with unique benefits. New this year, our Premier sponsor will be given eight conference attendee passes! Why not share a few of these passes with a valued customer and connect with them at the conference?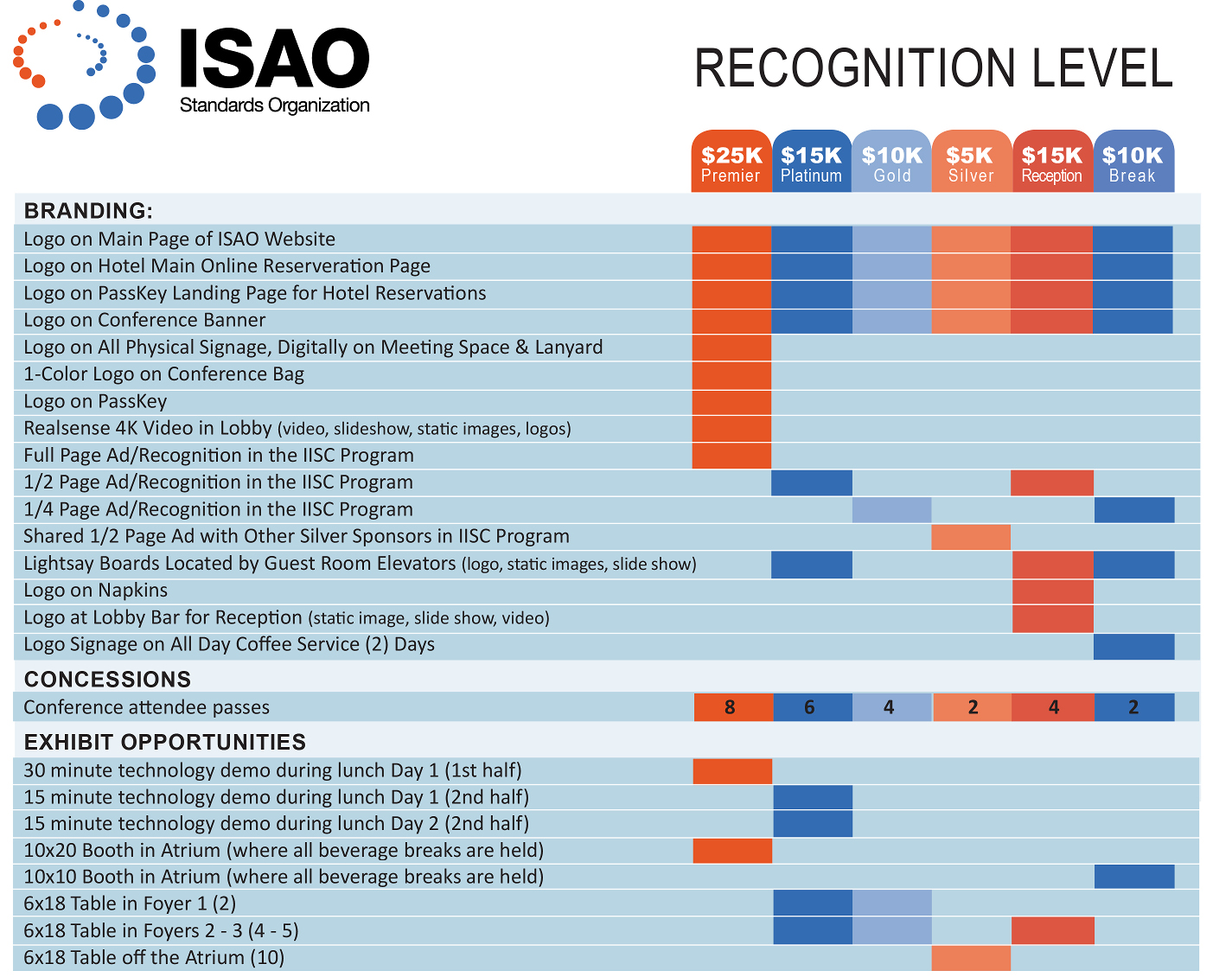 Premier – $25,000
Branding
Logo on Main Page of ISAO Website
Logo on Hotel Main Online Reservation Page
Logo on PassKey Landing Page for Hotel Reservations
Logo on Conference Banner
Logo on All Physical Signage, Digitally on Meeting Space, and Lanyard
1-Color Logo on Conference Bag
Logo on PassKey
Realsense 4K Video in Lobby (video, slideshow, static images, logos)
Full Page Ad/Recognition in the IISC Program
Concessions
8 conference attendee passes
Exhibit Opportunities
30 minute technology demo during lunch Day 1 (1st half)
10×20 Booth in Atrium (where all beverage breaks are held)
Platinum – $15,000
Branding
Logo on Main Page of ISAO Website
Logo on Hotel Main Online Reservation Page
Logo on PassKey Landing Page for Hotel Reservations
Logo on Conference Banner
1/2 Page Ad/Recognition in the IISC Program
Lightsay Boards Located by Guest Room Elevators (logo, static images, slide show)
Concessions
6 conference attendee passes
Exhibit Opportunities
15 minute technology demo during lunch Day 1 (2nd half)
15 minute technology demo during lunch Day 2 (2nd half)
6×18 Table in Foyer 1 (2)
6×18 Table in Foyers 2-3 (4-5)
Gold – $10,000
Branding
Logo on Main Page of ISAO Website
Logo on Hotel Main Online Reservation Page
Logo on PassKey Landing Page for Hotel Reservations
Logo on Conference Banner
1/4 Page Ad/Recognition in the IISC Program
Concessions
4 conference attendee passes
Exhibit Opportunities
6×18 Table in Foyer 1 (2)
6×18 Table in Foyers 2-3 (4-5)
Silver – $5,000
Branding
Logo on Main Page of ISAO Website
Logo on Hotel Main Online Reservation Page
Logo on PassKey Landing Page for Hotel Reservations
Logo on Conference Banner
Shared 1/2 Page Ad with Other Silver Sponsors in IISC Program
Concessions
2 conference attendee passes
Exhibit Opportunities
6×18 Table off the Atrium (10)
Reception – $15,000
Branding
Logo on Main Page of ISAO Website
Logo on Hotel Main Online Reservation Page
Logo on PassKey Landing Page for Hotel Reservations
Logo on Conference Banner
1/2 Page Ad/Recognition in the IISC Program
Lightsay Boards Located by Guest Room Elevators (logo, static images, slide show)
Logo on Napkins
Logo at Lobby Bar for Reception (static image, slideshow, video)
Concessions
4 conference attendee passes
Exhibit Opportunities
6×18 Table in Foyers 2-3 (4-5)
Break – $10,000
Branding
Logo on Main Page of ISAO Website
Logo on Hotel Main Online Reservation Page
Logo on PassKey Landing Page for Hotel Reservations
Logo on Conference Banner
1/4 Page Ad/Recognition in the IISC Program
Lightsay Boards Located by Guest Room Elevators (logo, static images, slide show)
Logo Signage on All Day Coffee Service (2 Days)
Concessions
2 conference attendee passes
Exhibit Opportunities
10×10 Booth in Atrium (where all beverage breaks are held)