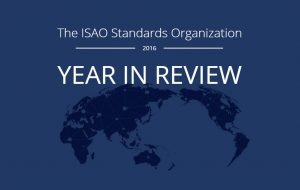 The past year has represented several giant steps forward for the Information Sharing and Analysis Organization (ISAO) Standards Organization (SO) and the information sharing community at large.
We are thrilled to publish the 2016 Year-In-Review as we look back at the past year. We invite you to view the online report or download the full version to read about our successes over the past year.
This Year-in-Review publication represents the work of the ISAO Standards Organization since October 2015. We're gratified to reflect on the support of over 160 working group members, the registration of 47 information sharing organizations, dynamic exchanges at four in-person public forums, the publication of four voluntary guideline documents, and a strategic roadmap ahead for 2017.
I want to thank the entire community for their contributions to the success of the ISAO project. This work would not be possible without the tireless contributions of our leadership team, the working groups, the Department of Homeland Security, and members of the public.
We are pleased to celebrate the progress, but recognize the challenge of the work to be done in 2017. We continue to seek to improve the Nation's cybersecurity posture by identifying standards, guidelines, and the other products needed for robust and effective information sharing and analysis related to cybersecurity risks, incidents, and best practices.
Working together, we will create a more secure and resilient information sharing community that is connected, informed, and empowered.