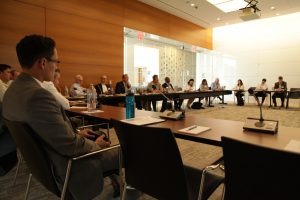 The Information Sharing and Analysis Organization Standards Organization (ISAO SO) hosted an online New and Emerging ISAOs Roundtable call on March 8.

Monthly online roundtables are open to New and Emerging ISAOs as well as individuals interested in learning more about starting an ISAO. Roundtables provide an opportunity to share knowledge and ask questions regarding Information Sharing and Analysis Organizations. This month's roundtable call featured a question and answer session with information sharing subject matter experts Brian Engle (R-CISC) and Michael Darling (PwC).

Brian Engle serves as the Executive Director of the Retail Cyber Intelligence Sharing Center (R-CISC), the resource supporting the retail and commercial services industries for sharing cybersecurity information and intelligence. The R-CISC, and its operation of the Retail and Commercial Services Information Sharing and Analysis Center (RCS-ISAC), create a trusted environment for robust collaboration for its members and partners. As Executive Director, Mr. Engle provides the leadership and oversight of all aspects of the R-CISC's mission, goals and operations for the delivery of effective and high quality services to the R-CISC membership.

Michael Darling is currently a Director within the Cybersecurity and Privacy practice of PwC focused on information sharing. Prior to joining PwC, he was the Director of the Enterprise Performance Management Office at the Department of Homeland Security's Office of Cybersecurity and Communications responsible for strategy, performance management, international engagement and legislative policy. Mr. Darling was also a Senior Program Examiner in the Office of Management and Budget within the Executive Office of the President focused on cybersecurity budget and policy issues.

Roundtable discussions are open to all new and emerging ISAOs that have completed the ISAO Registration form. Click here to complete your ISAO Registration to receive more information regarding this call.