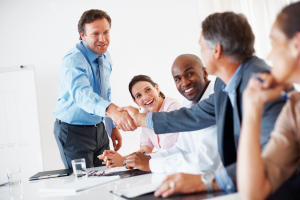 LMI is part of a team led by the University of Texas at San Antonio that was recently awarded a five-year $11 million grant from the U.S. Department of Homeland Security (DHS) to create standards for sharing information that will improve the nation's cybersecurity posture across all sectors.
"UTSA and LMI are strong partners. UTSA has been a member of our Academic Partnerships program since 2013, working with us on cybersecurity and sustainability issues," said Rick Lipsey, senior strategic cyber lead for LMI and deputy director of the nascent standards organization.
"With this grant, we will lead an effort to improve cybersecurity information sharing and best practices, strengthening our nation's cybersecurity posture over the next five years," Lipsey said.
The standards organization will lead a voluntary consensus standards development process to engage industry, government, and academia to share their needs and expectations in preventing and responding to cyber attacks. While many acknowledge that national and economic security is threatened by these attacks, concerns about personal privacy and the protection of confidential business information have slowed the process for standardizing critical information sharing. The DHS grant aims to tackle this issue.
The Center for Infrastructure Assurance and Security (CIAS) will lead UTSA, LMI, and the Retail Cyber Intelligence Sharing Center's (RCISC's) efforts to create an Information Sharing and Analysis Organization (ISAO) Standards Organization. The ISAOs will use the guidelines to communicate with industry, government, and other stakeholders to improve national cybersecurity.
Dr. Greg B. White, professor of computer science and director of the CIAS, said that information sharing works for all stakeholders involved, but the key is in operationalizing the act of sharing.
"So how do we get everybody else involved in this information-sharing domain? There have been no overarching standards issued on how to create these organizations and how they communicate with the government," Dr. White said. "Creating more ISAOs means we'll all be doing a better job of protecting everyone."
UTSA and LMI will facilitate establishing common expectations and trust among entities with diverse interests. Government, individuals, and private businesses will find ways to balance their needs in the interest of national security through a voluntary consensus standards development process.
"LMI's work in developing information exchange standards is proof that this can be done," Lipsey said. "For nearly twenty years, we've supported government and non-government standards development for the Defense Standardization Program, the world's largest consensus standards organization. With this team, we'll be able to bring people to the table to engage in public dialogue about how to improve national security and privacy standards."
Work for the DHS grant begins in October, when UTSA, LMI, and RCISC will prepare for the first public meeting to engage industry with interest in cybersecurity, which will be held at LMI's headquarters in Tysons, Virginia in early November.