San Antonio, TX—The Information Sharing and Analysis Organization Standards Organization (ISAO SO) published an additional voluntary guideline documents today on isao.org. The new publication, ISAO Special Publication (SP) 1000: Forming a Tax-Exempt Entity, was developed by the ISAO Creation and Privacy and Security working groups.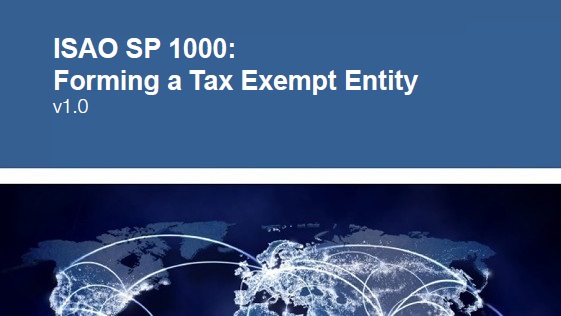 This latest special publication brings the total number of publications in the ISAO Series up to six. The documents have been developed with the support of over 160 industry experts in response to Presidential Executive Order 13691 to provide guidelines for robust and effective information sharing and analysis related to cybersecurity risks, incidents, and best practices.

The new publication released today, includes:
ISAO SP 1000: Forming a Tax-Exempt Entity: This document serves as a high-level overview of tax-exempt legal entity formation options under the Internal Revenue Code (the "Code") for Information Sharing and Analysis Organizations (ISAOs).
"This additional special publication continues to strengthen the ISAO Series," explained Dr. Greg White, Executive Director of the ISAO SO. "Our working groups continue to produce important, relevant, and critical documents to the creation and growth of information sharing organizations. ISAO SP 1000 fills a need in the information sharing ecosystem. I applaud the efforts of our working groups and look forward to future publications as the ISAO Series continues to grow."
Public feedback has been a critical component to all of the documents in the ISAO Series. Throughout the development process, working groups received comments and feedback from public online meetings and request for comment periods for previous drafts. Comments were considered and adjudicated in an open and transparent consensus-based development process. A schedule of future planned publications can also be found on isao.org.