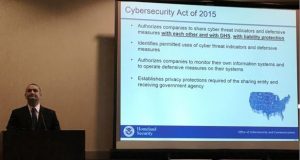 Anaheim, CA: The Information Sharing and Analysis Organization Standards Organization (ISAO SO) hosted its third open forum in Anaheim, CA on May 19. The forum, open to the general public, attracted over 100 attendees from multiple industry sectors, government, and academia. The public forum was designed as an opportunity for feedback regarding the first draft product releases.
The ISAO SO was selected in October 2015 to facilitate the implementation of Presidential Executive Order 13691, "Promoting Private Sector Cybersecurity Information Sharing." The ISAO SO is developing cybersecurity sharing standards, guidelines, and best practices using an open and transparent process for developing consensus standards. The meeting was a continuation of the organization's public engagement in creating ISAO standards.
"The ISAO SO team is excited and encouraged by the amount of participation and involvement in our third public forum," stated Dr. Gregory B. White, Executive Director, ISAO SO. "The robust participation included experts from various industries and sectors, all contributing to our mission and end goal. Public feedback has been and continues to be integral to the development of these groundbreaking efforts."
Previous forums were at LMI headquarters in Tysons, VA, and The University of Texas at San Antonio. These earlier meetings focused on gathering initial public input on topics to be addressed by the ISAO SO, the organization of Standards Working Groups, and the qualifications for leaders. In this third public forum, the focus shifted to the draft publications that had been posted for public comment on May 3 in the Drafts Section of this ISAO SO website.
"These meetings are vital to help create a more secure nation. Input, comments, and debate by the public are critical to ensuring the ISAO SO publications reflect best practices for effective and efficient information sharing and analysis," explained Richard Lipsey, Deputy Director, ISAO SO. "We're grateful for the helpful public feedback we've received from various experts to inform the final documents the ISAO SO plans to publish this fall."
Guest speakers at the third open forum included Matthew Shabat, Director of Performance Management at the Department of Homeland Security (DHS) Office of Cybersecurity and Communications, who discussed updates regarding the Cybersecurity Information Sharing Act; Jeff Goldthorp, Associate Bureau Chief for the Federal Communications Commission (FCC) Cybersecurity and Communications Reliability Division, who provided an overview of regulator forum perspectives; and Dr. Peter Fonash, Chief Technology Officer for the DHS Office of Cybersecurity and Communications, who led a discussion regarding the importance of automation and sharing.
Slides and the recordings from the meeting are available on this ISAO SO Website: In-Person Meeting — May 18-19, 2016