Attendees and Speakers from Across the Globe Gathered this Week in Washington, D.C.
The Information Sharing and Analysis Organization Standards Organization (ISAO SO) hosted nearly 200 participants from across the globe last week in Washington, D.C. for the inaugural International Information Sharing Conference. The two-day event, held with participation from the Department of Homeland Security (DHS) and the U.S. Chamber of Commerce, brought together the public and private sector to discuss the future of information sharing efforts.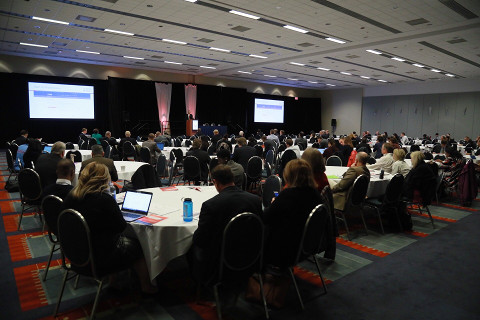 "The International Information Sharing Conference was a resounding success in its very first year," said Dr. Gregory White, Executive Director of the ISAO SO. "The conference featured involvement from leaders in retail, private sector businesses and public sector leaders from the White House, Congress, and Department of Homeland Security. The conversations from the conference will continue to push the information sharing ecosystem forward as we build trust among community members."

Day one of the conference was highlighted by high-profile keynote addresses from major information sharing and cybersecurity leaders including Thomas Schreck, Chairman of the international Forum of Incident Response and Security Teams (FIRST). Rick Lipsey, Deputy Director of the ISAO Standards Organization, provided attendees with a review of how the ecosystem has evolved and previewed documents that are in development. Ed Harris, Senior Manager, Global Security Ops, Risk & Compliance for VF Corporation, gave a riveting address on the value of information sharing in the retail sector as we embark on the holiday season. Finally, Jeanette Manfra, Assistant Secretary of Cybersecurity and Communications at DHS, gave the lunchtime keynote address and participated in the first-ever induction to the Information Sharing Hall of Fame. The Information Sharing individual award was presented to David Powell for his work to establish CyberUSA. The Information Sharing organizational award went to The MITRE Corporation for their work both in helping develop information sharing theory and in facilitating the establishment of several ISAOs.

In addition to valuable keynote addresses from John Felker, Director, National Cybersecurity and Communications Integration Center (NCCIC), and Bridgette Walsh, Acting Branch Chief for Partnerships & Engagement, DHS, day two of the conference featured a dynamic cybersecurity legislative luncheon. Congressmen Jim Langevin, 2nd District of Rhode Island, and Will Hurd, 23rd District of Texas, spoke about the future of cybersecurity legislation. Additional day two keynote speakers included Faye Francy, Automotive ISAC, and an announcement from Dr White, the ISAO SO Executive Director, on plans to release a Request for Comments in November 2017 on a certification program to include a Self-Certification and Baseline Certification.

In addition to these keynote speakers, representatives from MITRE, Surevine, TruSTAR Technology, Global Resilience Federation, and Johns Hopkins University Applied Physics Laboratory (to name a few) presented in breakout sessions throughout the conference. Leaders from several information sharing organizations, including the National Credit Union ISAO, Trustworthy Accountability Group (TAG), Arizona Cyber Threat Response Alliance (ACTRA), regional ISAOs, the Financial Services ISAC and the Electricity ISAC also addressed the conference throughout the daily afternoon breakout sessions. Finally, sponsor NC4 delivered a technology demonstration displaying solutions to help ISAOs provide more value to their members with two platforms including Mission Center™, and Soltra Edge®.

"We are thrilled with the feedback we've received from attendees of this year's conference," explained Rick Lipsey, Deputy Director of the ISAO SO. "The community came together over these past two days to experience a landmark event for information sharing. We look forward to continuing to grow this event in years to come as information sharing becomes even more robust and effective."

The inaugural International Information Sharing Conference marked the end of the 2017 National Cybersecurity Awareness Month (NCSAM). NCSAM was created to increase awareness and knowledge about cybersecurity. The International Information Sharing Conference was a 2017 NCSAM partner event.