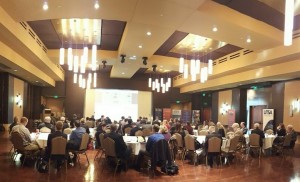 San Antonio, TX: The Information Sharing and Analysis Organization Standards Organization (ISAO SO) held its second open forum on Tuesday, February 9, 2016 at the University of Texas at San Antonio. In less than six months, the ISAO SO has assembled an impressive leadership team who are guiding six standards working groups (SWGs) in response to Presidential Executive Order 13691, which called for the creation and standardization of ISAOs.
"I am very pleased that over 100 experts from various industry sectors, the government, and academia are already engaged in our standards working groups and positioned to help the Nation establish a viable national information sharing program." stated Dr. Gregory B. White, Executive Director, ISAO SO. The SWGs have already established their leadership, held meetings, and are continuing to accept additional members. In his opening remarks to the forum, Mike Echols, DHS Director, Cyber Joint Program Management Office, said "Some of the best minds in our Nation are coming together to work on this effort…together we can fundamentally change the landscape of information sharing."
In opening remarks, the ISAO SO leadership introduced the six initial Standards Working Group Chairs and Vice-Chairs, who then met with members during breakout sessions. During the sessions the SWG leadership introduced the goals for each of the working groups and invited questions and comments from public attendees.
"We are very pleased that within the first four months we have created the infrastructure for collaboration within the community and are already seeing a robust dialogue," stated Rick Lipsey, Deputy Director, ISAO SO. The standards organization has received over 400 inputs regarding lessons learned and best practices and continues to solicit examples and suggestions on existing standards, guidelines, and best practices that can be shared as provisional guidance until formal ISAO standards are established.
Slides and the audio recordings from the meeting are available on the ISAO SO Website: In-Person Meeting — February 9, 2016