ISAO SO Ecosystem Spotlight Webinar Series Continues in May with R-CISC and TruSTAR
The Information Sharing and Analysis Organization Standards Organization (ISAO SO) is hosting its upcoming ISAO Ecosystem Spotlight webinar on May 23 with Tommy McDowell, senior director at the Retail Cyber Intelligence Center (R-CISC), and Patrick Coughlin, co-founder and COO of TruSTAR. They will provide a joint presentation on how to "Optimize ISAO Intelligence into Your Security Workflow".
The May ISAO Ecosystem Spotlight webinar is part of a new bi-monthly webinar series that launched in March 2018 to engage the greater information sharing community and provide alternating topics of interest, from Hot Topics to Technical Spotlights. The webinars are open to the entire information sharing community and registration for the webinars are free.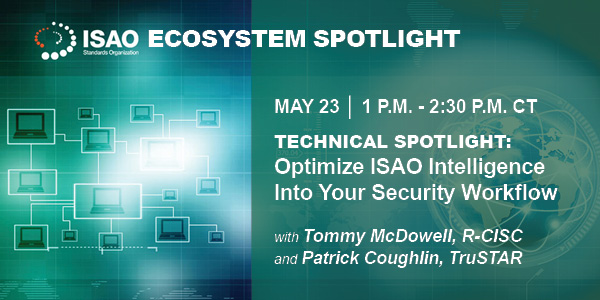 The webinar on May 23, from 1 p.m. to 2:30 p.m. CT, will provide the ISAO ecosystem with information on how to get more value from their ISAO intelligence. R-CISC and TruSTAR will walk the webinar attendees through the challenges they've personally overcome in setting up R-CISC's threat intelligence exchange. They will also provide guidance on how to operationalize ISAO threat intelligence feeds so that analysts can spend less time doing data entry, and more time investigating threats.
"The ISAO SO received such positive feedback from our inaugural webinar in March that we can't wait to delve into the Technical Spotlight portion of our new webinar series," said Natalie Sjelin, director of the ISAO SO Support Group. "While our last webinar was focused on a hot topic that targeted the entire information sharing community, this technical webinar is geared toward each organization's analysts and how they can optimize their security operations workflow. We encourage organizations of all types to consider joining these webinars for the continued development and growth of the ISAO community."
Attendees can expect to leave the webinar with three key takeaways: obtaining five actionable steps on how to optimize threat intelligence into their security operations workflow; learning new investigation tactics that use ISAO data to help prioritize events and push them into their security information and event management system (SIEM); and previewing analyst workflow use cases within the R-CISC TruSTAR platform.
The ISAO community is invited to register for the May 23 ISAO Ecosystem Spotlight Webinar at ISAO.org/events.