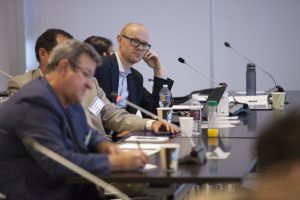 San Antonio, TX
—Today the Information Sharing and Analysis Organization Standards Organization (ISAO SO) announced the assignment of the next series of topics to be addressed to support ISAOs. These publications will be a continuation for the
ISAO Series
.
On September 30, 2016, the ISAO SO published four initial voluntary guideline documents on isao.org. These publications were developed with the support of over 160 industry experts in response to Presidential Executive Order 13691 to provide guidelines for robust and effective information sharing and analysis related to cybersecurity risks, incidents, and best practices.
"Working groups are critical to the success of the ISAO SO," explained Dr. Gregory White, Executive Director, ISAO SO. "The assignment of these upcoming documents represents a defined path for the upcoming year. We encourage stakeholders from the entire information sharing community to apply to join a working group to be part of document development."
To apply to join a working group, please fill out our online working group application.
The following topics have been assigned to existing working groups:
Working Group 1:

Frequently Asked Questions for Governance of an ISAO

Working Group 2:

Intro to Capabilities and Services – A midlevel discussion of the capabilities and services that an ISAO could provide to its membership.

Working Group 3:

Automated Information Sharing – A midlevel-technical discussion of automated information sharing and its impact on the ecosystem

Working Group 4:

Introduction to Privacy and Security: common Practices to Advance Privacy and Security in Private Sector Information Sharing
Common Considerations and Frequently Asked Questions for General Counsels for ISAOs: An introductory to midlevel discussion of the legal FAQs and considerations that arise in forming / operating an ISAO.

Working Group 6:

State, Local, Territorial, Tribal, and Regional Considerations: Explores the issues for sharing information with governmental organizations at the state, region, local, territories and tribal levels.
A new working group will be established to complete work on the following topic:
Intro to Analysis – A midlevel discussion of Information Sharing Analysis
The next series of documents reflects the ISAO SO's commitment to a public, collaborative process to evolve the body of knowledge of the information sharing community. Working groups are beginning work to analyze the assigned topics and to design and develop the documents for review by the ISAO SO and the general public.  A publication schedule will be forthcoming after initial analysis is complete and will be published on the iao.org public website.