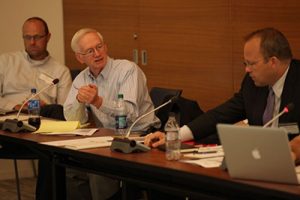 The ISAO SO was established 18 months ago in response to Presidential Executive Order 13691. Over the past year and a half, we have worked diligently with members of the information sharing community to establish working groups, grow the ecosystem, and publish guideline resources for use by information sharing analysis organizations.
Our working group members have been the vital lifeblood to the success of our efforts. Nearly 200 experts from industry, academia, government, and military have come together to create the published and draft ISAO Guideline products.
We are currently recruiting new working group members to join any of our six working groups. Completing an application for a working group takes less than three minutes.
Our working groups are focused on topics including: ISAO Creation, ISAO Capabilities, Information Sharing, Privacy and Security, Government Relations, and Analysis. Each working group is composed of Leadership (Chair, Co-Chairs), a core development team, and general members.
We are currently seeking experts to fill the roles of Co-Chair, core development team, and general members for our newest working group on Analysis. This group is tasked to identify and address methods and associated issues regarding analyzing indicators with respect to Information Sharing and Analysis Organizations and publish documents on their findings.
With six documents currently under development and three draft documents in the request for comment period, now is the perfect time to join a working group.
The information sharing community will continue to grow with the help of experts like you. We invite you to join a working group today to contribute to our efforts of creating guidelines for robust and effective information sharing and analysis related to cybersecurity risks, incidents, and best practices.