We are delighted to publish the 2017 Year in Review today. Once again, the Year in Review publication represents the work of the entire information sharing community. 2017 was a landmark year for the Information Sharing and Analysis Organization Standards Organization (ISAO SO); we invite you to view the interactive report or download the full version to read about the progress of the ISAO SO and the success of the information sharing community over the past year.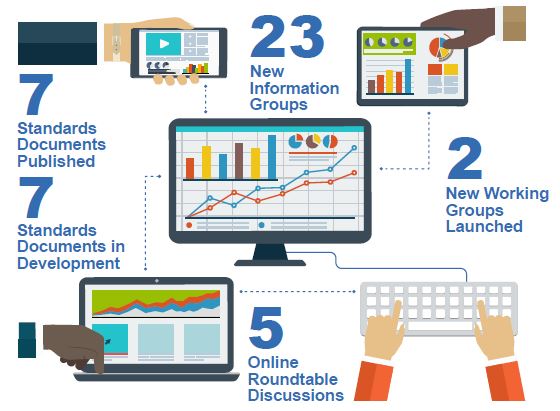 After a productive 2016 featuring the publication of four initial guideline documents, the focus of the ISAO SO shifted beyond documents to expanding our outreach to the global information sharing community. This last year saw incredible growth in information sharing organizations and outreach efforts of the ISAO SO. We launched an International Information Sharing Conference, published three new documents, began developing seven additional documents, created two new working groups, and enrolled 23 new information sharing groups to be listed on the ISAO.org website.
Engagement with the information sharing community is at an all-time high. With the success of last fall's inaugural International Information Sharing Conference, we have a renewed sense of progress and vision for this meaningful project. Hearing from practitioners from across the globe provided critical feedback that the work we are doing is making an impact in the daily efforts of industry leaders. Seeing support from the public and private sector underscored that information sharing is an issue for both. Cybersecurity challenges impact everyone and information sharing is a critical component of any cybersecurity strategy.
We are pleased to celebrate the progress of the last year, but recognize the challenge of the work to be done in the year ahead. We continue to seek to improve the nation's cybersecurity posture by identifying standards, guidelines, and other products needed for robust and effective information sharing and analysis related to cybersecurity risks, incidents, and best practices.
I'd like to thank our staff, working group leadership, working group members, and the community at large for their dedication to this project and for their efforts in increasing the security and resiliency of our nation.