The ISAO Standards Organization (ISAO SO) is shining the spotlight on our dedicated group of working group chairs in a blog series called, Meet the Chairs. The working group chairs play a significant role in the publishing of standards and guidelines. The professionals who volunteer their time and experience to be the voice of a community spend considerable time evaluating the needs of new and emerging ISAOs, as well as existing ISAOs with advanced needs.
The Chairs and Co-Chairs provide direction and guidance to the working group. They not only act as advisors to their working group, but they also play active role as advisors to the ISAO Standards Organization.
Nick Sturgeon
Chair, Working Group 2 ISAO Capabilities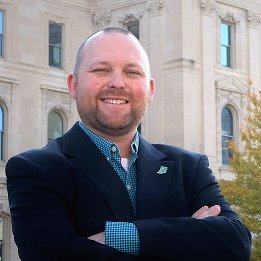 Nick Sturgeon is a Senior Information Security Instructor for the Center for Infrastructure Assurance and Security (CIAS) program at the University of Texas San Antonio. Nick started with CIAS in the summer of 2017 and brings over a decade of State Government IT, Security, information sharing and Law Enforcement experience to the CIAS training staff.
In addition to working with CIAS, Nick hosts the Cyber.Now Podcast which focuses on Technology, Politics, Cybersecurity and Government, holds the position of Vice President for the Cyber Leadership Alliance, a non-profit organization that brings together experts from government, military, academia and business to: synchronize efforts, solve complex problems, facilitate efficiency and effectiveness, Foster innovation, Promote economic and workforce development in Indiana. Since February 2017, he has been serving as the chair for the Services and Capabilities Work Group (WG 2) for the ISAO-SO. As WG 2 Chair, he is responsible for organizing and leading the efforts of the working group and ensures that all product development meets its stated goals. As a working group chair, he also supports and advises the ISAO-SO leadership on the direction of the SO. Nick also serves on the Government Relations Working Group (WG 6) and the Privacy and Security Working Group (WG 4).
Nick's decade in State Government stated when he was accepted in the 67th Indiana State Police Recruit School (the largest class in the department's history). Nick was with the Indiana State Police from 2007 to 2015. Nick's last assignment was as First Sergeant and Assistant Commander of the department's IT Section. In July of 2015 Nick was selected to be the first manager of the Indiana Information Sharing and Analysis Center and the State of Indiana's Security Operations Center. In February of 2016 he was appointed as the first Deputy Director for Cyber for the Indiana Intelligence Fusion Center. In these positions, he was responsible for developing and operationalizing the information sharing capabilities of the State of Indiana. Nick also advised on the development of Governor Eric Holcomb's Indiana Executive Cybersecurity Council. Nick was also responsible from briefing the Indiana Intelligence Fusion Center Executive Council and the Indiana Counter Terrorism and Security Council (CTASC) on cybersecurity related issues.
He received a Bachelor of Science in Management Information Systems from Indiana State University and a Master of Science in Cyber Forensics from Purdue University. He also has an A+ certification and ITIL Foundations in IT Service Management certification. Nick was also a certified primary police instructor and digital media recovery specialist for the Indiana State Police.
Nick has been dedicated to raising the cybersecurity awareness to the general public in Indiana. He has spoken at a range of events including conferences, expert panel discussions, staff development training sessions and guest lectured at multiple Indiana universities.  Additionally, he has organized multiple speaking panels featuring cybersecurity experts around the country. Nick co-authored a technical report on cyber-attacks on the financial sector and assisted in the development of ISAO-SO 300-1 publication. Under Nick's leadership the IN-ISAC received two national awards the Center for Digital Government Achievement Award (2016) and the Center for Digital Government Cybersecurity Leadership and Innovation Award (2016).
*Open Seat*
Co-Chair, Working Group 2 ISAO Capabilities
The working group members have been established to develop specific standards and guidelines for the creation and functioning of ISAOs. General working group members will support the working groups with feedback during the standards development cycle. This group is not limited in size.
Becoming a working group member or leaders is a great way to build your professional brand! Be a part of an organization actively shaping the information sharing community. We're looking for writers willing to offer their talent and experience to new publications on ISAO Capabilities.
If you're interested in volunteering to join or lead a working group, please apply here.