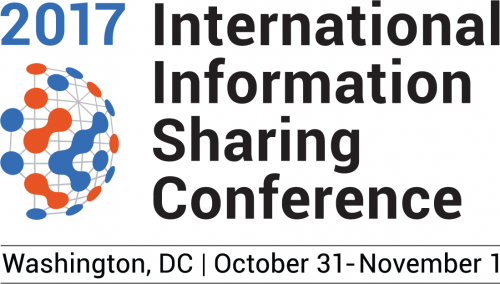 We are thrilled to highlight the panels and presentations scheduled for day one of the inaugural International Information Sharing Conference taking place at the Walter E. Washington Convention Center in Washington D.C. October 31-November 1, 2017. Register today!

The panel sessions and presentations included have been carefully selected from nearly 60 abstracts submitted to the ISAO Standards Organization for review. The conference itself will bring together the international information sharing community for networking, technology demonstrations, an exhibition hall, panels, and keynote speakers from industry, government and international thought leaders. Click here, for a complete conference agenda.

The afternoon sessions will kick off with a keynote luncheon featuring Assistant Secretary Jeanette Manfra. Manfra serves as the National Protection and Programs Directorate (NPPD) Assistant Secretary for the Office of Cybersecurity and Communications (CS&C). She is the chief cybersecurity official for the Department of Homeland Security (DHS) and supports its mission of strengthening the security and resilience of the nation's critical infrastructure.

Assistant Secretary Manfra will be participating in the first ever Information Sharing Hall of Fame of Awards being hosted by the ISAO Standards Organization; one award will be given to an individual and one to an organization. It is important we take the time to recognize those individuals and companies who have demonstrated the highest standards of professional competence and selflessness and have contributed significantly to the promotion of the information sharing ecosystem.

The afternoon will be broken up into three time slots, with three possible sessions for attendees to choose from:

1:30 PM – 2:30 PM

Information Sharing Success Stories moderated by Rick Lipsey, Deputy Director, ISAO Standards Organization
Panelists include, Carl Anderson, HITRUST; John Carlson, Financial Services ISAC; and Marcus Sachs, North American Electric Reliability Corporation.

STIX/TAXII Update presented by Rich Struse, Chair, OASIS Cyber Threat Intelligence Technical Committee

International Information Sharing Dynamics moderated by Norma Krayem, Sr Policy Advisor & Co-Chair, Cybersecurity and Privacy Team, Holland & Knight, LLP
Panelists include, Matthias Fischer, Senior Policy Advisor, German Federal Ministry of the Interior, Federal Republic of Germany; and more to come.
---
2:45 PM – 3:45 PM
Operationalizing a Network to Defeat a Network presented by Frank Grimmelmann, Arizona Cyber Threat Response Alliance (ACTRA)
Automated Information Sharing: Lessons Learned So Far moderated by Michael Darling, PricewaterhouseCoopers (PwC)
Panelists included, Scott Algeier Executive Director, IT-ISAC; Michael Daniel President of Cyber Threat Alliance, Former White House Cybersecurity Coordinator; and more to come.
Information Sharing Resources for Small and Midsize Business moderated by Reggie McKinney, C3 Voluntary Program (DHS)
Panelists include, Jack Bienko, Small Business Administration (SBA); Matt Chevraux, U.S. Secret Service; Marcus Joachim, Federal Bureau of Investigation (FBI); and Bonnie Moss, SMB ISAO.
---
4:00 PM – 5:00 PM
ISAO Service Provider Panel moderated by Doug DePeppe, Cyber Resilience Institute (CRI)
Panelists include, Cindy Donaldson, Global Resilience Federation (GRF); Deborah Kobza, International Association of Certified ISAOs (IACI); and Michael Darling, PricewaterhouseCoopers (PwC).
Autoimmunity for Automated Sharing presented by Mike Vermilye, Johns Hopkins University Applied Physics Laboratory
Developing National Information Sharing Systems presented by Steve Ingram, PwC-Australia
Click here to register for the conference and to view a full agenda of speakers. We're less than one month away and the deadline to register for this two-day event is October 27th.
All speakers are subject to change.