The Information Sharing and Analysis Organization (ISAO) Standards Organization (SO) is hosting the Second Annual International Information Sharing Conference (IISC), along with partner organizations the Center for Infrastructure Assurance and Security (CIAS) at the University of Texas at San Antonio (UTSA), LMI, and R-CISC. The two-day event will be conveniently located in the Washington metropolitan area on September 11-12, 2018 at the Hilton in Tysons Corner, Virginia. Registration is currently open with a discounted early bird rate of $295 through May 31, 2018.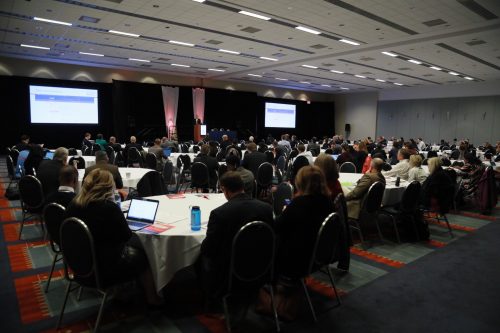 Join representatives from information sharing groups with all levels of expertise, security practitioners, major technology innovators, and well-established cybersecurity organizations, as they come together to discuss the impact ISAOs have had on the nation's security, share lessons learned, and discover the latest in cybersecurity policy. Keynote addresses by industry experts, senior government, and international thought leaders will be scheduled for the mornings. Presentations on key topics and panel discussions of interest to the information sharing community will be held in the afternoon sessions.
The IISC is your community conference, be a part of the process and help us shape the agenda by submitting a proposal to be a speaker, nominating an Information Sharing Hall of Fame nominee, or highlighting your company as an event sponsor.
JOIN THE IISC AS A SPEAKER
For those interested in speaking at the conference, we are offering four track categories to choose from to submit a topic of interest to the information sharing ecosystem: Government and Legislation; Improving the Value of Information Shared; Hot Trends; and Growing your ISAO. Your proposed presentation or panel discussion should provide practical advice and solutions to attendees and equip them with the knowledge to meet today's ever-changing cybersecurity challenges. All proposals will be evaluated on the value provided to ISAOs and the community at large. Proposals are due by May 14, 2018!
Become a Speaker
HALL OF FAME NOMINATIONS
The Information Sharing Hall of Fame Awards recognize individuals and companies who have demonstrated the highest standards of professional competence and selflessness and have contributed significantly to the promotion of the information sharing ecosystem. The first award winners were inducted at last year's inaugural conference. Hall of Fame Awards Nominations are being accepted through August 31, 2018!
Nominate an Individual or Organization
SPONSORSHIPS AVAILABLE
One of the best ways to connect with potential customers and highlight your company's expertise is by engaging with the information sharing community at the Second Annual International Information Sharing Organization (IISC). This dynamic event is your company's opportunity to talk about services and capabilities, demonstrate the latest technology, and promote your brand to attendees from the public and private sector. The IISC 2018 is an important part of building connections with information sharing groups around the world, which is why we want to deliver the best sponsorship benefits available to you as a valued sponsor.
Become a Sponsor
If you have any questions about sponsorship, please contact Brande Mora at brande.mora@utsa.edu.