One of the best ways to connect with potential customers and highlight your company's expertise is by engaging with the information sharing community at the Second Annual International Information Sharing Organization (IISC), taking place September 11-12, 2018 in Tysons Corner, Virginia. This dynamic event is your company's opportunity to talk about services and capabilities, demonstrate the latest technology, and promote your brand to attendees from the public and private sector. The IISC 2018 is an important part of building connections with information sharing groups around the world, which is why we want to deliver the best sponsorship benefits available to you as a valued sponsor.
If you have any questions about sponsorship, please contact Brande Mora at brande.mora@utsa.edu.
Download the IISC 2018 Sponsor Packet
Connect with your Customers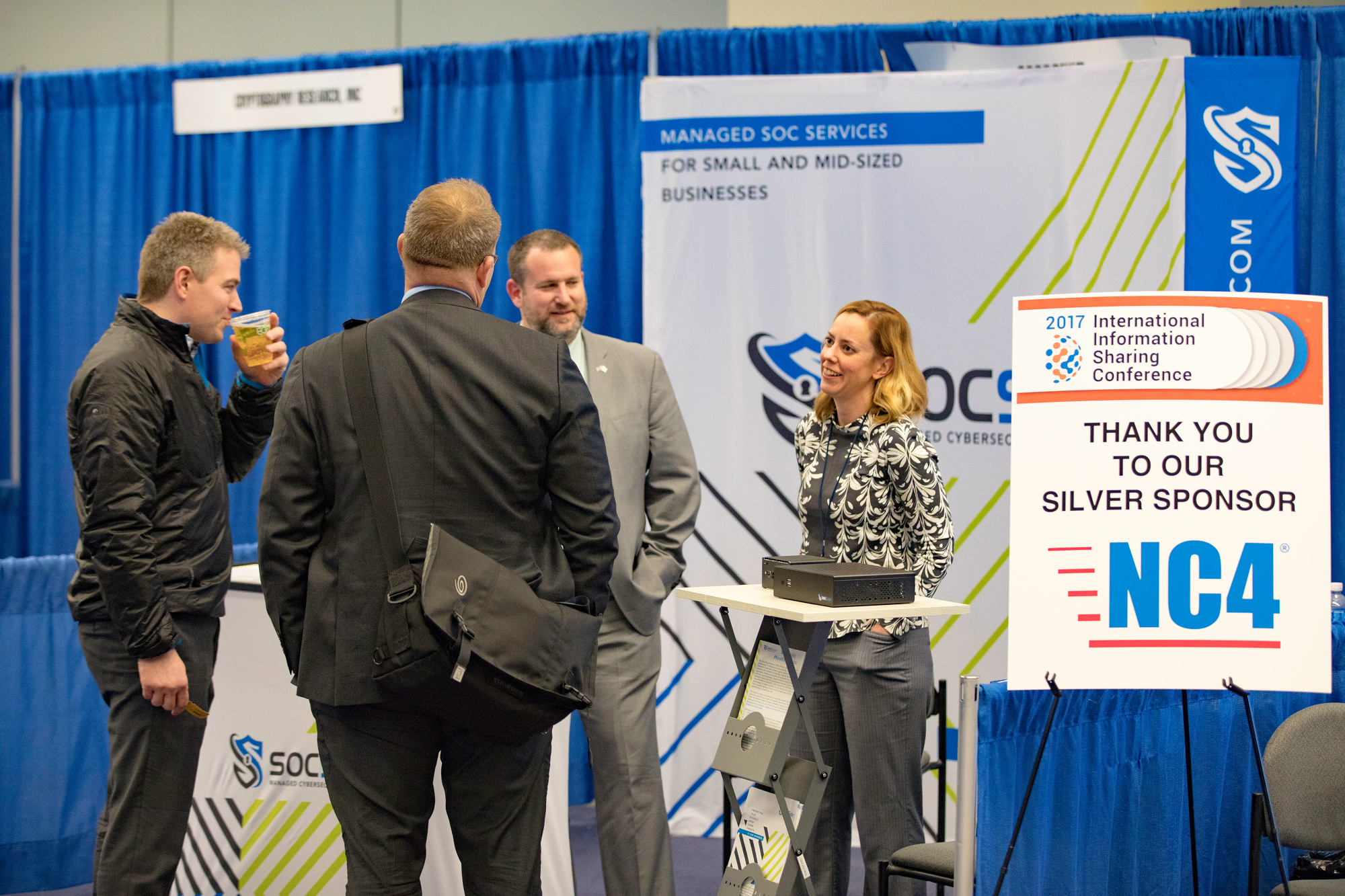 The inaugural conference welcomed nearly 200 attendees from various fields in academia, government, industries and other areas of interest.
From the Academia sector, we were excited to have Johns Hopkins University Applied Physics Laboratory and Carnegie Melon University among the colleges and universities in attendance.
Government officials from the Department of Homeland Security, Federal Bureau of Investigations and Environmental Protection Agency were present, and Industry representatives such as Price Waterhouse Coopers, the U.S. Chamber of Commerce, and Arete were able to connect and engage on information sharing topics.
Demonstrate Your Product
We have exciting new opportunities to offer sponsors this year to help engage new and existing customers. The 2018 IISC offers both 15-minute and 30-minute technology demos during lunch. The Premier and Platinum sponsors will have an opportunity to showcase their product to our audience and then interact with them during conference breaks.
Display your Brand
From digital signage and video opportunities in the lobby bar and near elevators to digital check-in keys, and traditional conference items, your brand will be front and center.
Sponsorship Levels
IISC 2018 will offer six different levels of sponsorship, each with unique benefits. New this year, our Premier sponsor will receive eight conference attendee passes included in their package. This is a terrific opportunity to share a conference pass with a valued customer and connect with them at the conference.
Sponsorships are limited! Please contact Brande Mora at brande.mora@utsa.edu today to discuss your custom branding opportunities at the upcoming conference today.